@ 12 BAR CLUB
Denmark Place, London WC2
RHATIGAN

DAVID SCHWEITZER

TIM BOWNESS & PETER CHILVERS
DEFEAT THE YOUNG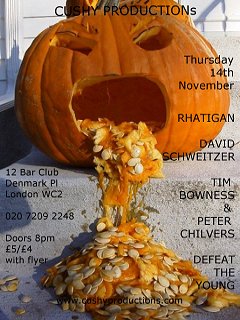 I know the evenings are drawing in and the temperature is dropping, but that really is no reason to give up on your gig life. The 12 bar is not a huge cavernous venue where on damp chilly nights you have to huddle in little groups to keep warm, it is a cosy place perfect for these winter evenings. The inclement weather is the only explanation I have for the sparse attendance at last month's Cushy night where heat was amply supplied by all the acts especially the undeniable fire of the wonderfuel Baptist Generals. Never miss an opportunity to see them again. This month's line up is eclectic and quirky to say the least. If the sight of me hauling my ever growing 7 & 3/4 month pregnant RHATIGAN bump on and off stage isn't curiosity enough then the other artists certainly are...
www.cushyproductions.com/html/rhatigan.htm
DAVID SCHWEITZER is a songwriter of rare literate and comically poignant charm. Having studied music at Oxford it is no surprise that his is an accomplished sound, but his humour and humanity prevent him from losing touch with the real emotion required to make great music. These days he has been concentrating on his day job writing music for TV and film, most recently a highly acclaimed musical documentary about trade and globalisation 'The Luckiest Nut in the World' (Channel 4), which featured a troupe of singing peanuts. No peanuts tonight, but certainly something entertaining and unique.


TIM BOWNESS and PETER CHILVERS are best known as the voice and writing talent behind Norfolk and Cambridge bands NO-MAN (with Porcupine Tree's Steven Wilson) and ALIAS GRACE respectively. Tim and Peter have previously collaborated in Henry Fool and Tim Bowness/Samuel Smiles, but they have arguably produced their best work as a duo, culminating in this year's "California, Norfolk" album on Burning Shed, the internet-based record label Tim and Peter have established together. 'California, Norfolk' combines singer-songwriter intimacy with dark electronic textures and found sounds. Occasionally reminiscent of The Blue Nile, Randy Newman, Mark Eitzel and Berlin-era Bowie/Eno, from the brooding, cinematic and orchestral sweep of 'Hostage' to the epic ambition of 'Winter With You', it's the most ambitious work the duo have attempted together.
http://www.burningshed.com

The theatrics of Richard Larcombe and his band DEFEAT THE YOUNG have been off the scene for a while now, so it will be interesting to catch up with their gothic carry on. Theirs is an ambitious melange of dark orchestrations and intense operatic musings. The songs are delicate and extremely unconventional in structure, featuring harmonium, electric guitar and hammered dulcimer. By reputation it is a sound unlike anything you've heard before!
£5/£4 with flyers
Doors 8pm