RHATIGAN
"Rhatigan's sharp, intense little vignettes will swoop and growl their way into your bones."
TIME OUT
Having cut her teeth as a session singer for among others Stock, Aitken and Waterman on hits such as 'I should be so lucky' and 'I'd rather Jack than Fleetwood Mac', and following the release and demise of her own debut album 'To hell with love' for US label Imago, singer songwriter Suzanne Rhatigan returned to London to start again, again.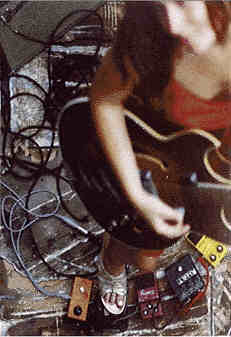 After several pleasant afternoons playing music with bass player John Morrison, it became clear that a very exciting song writing partnership had begun. With the help of drum pal Bryn Burrows they did a few gigs around town and very quickly attracted the attention of underground gothfather Sean (Org Records /Organ Fanzine) Worrall, who released the bands first recordings. The resulting album' Late Developer'. is an explosion of melody, emotion, noise, folk, pop and soul.'.
It would be true to say Suzanne Rhatigan has had to contend with many natural and unnatural dissasters but despite losing drummer Bryn following a bizarre toast throwing incident John and Suzanne couldn't help themselves continuing to write songs and it was during this time that with the help of Hefner drummer Ant and pedal steel player Jack Hayter they recorded a previously unrelesed Ep Radio Friendly under the name Dolly. A gentler more introspective selection of melodic semi-acoustic pop tunes over laying ambient feedback and electro niggles....
Destined as they were not to reach the tip of the top of the hit parade, not least as Ant, Jack and bassist John were increasingly required for duties with Darren Hayman's Hefner, Dolly quickly re-cloned itself into Rhatigan with the addition of Paul Murphy on drums and an ever-evolving horn/string section. Intimate and epic, portraits of an inner world flashing with great joy and crashing down to earth as on Rhatigan's next unreleased mini album 'Big Stick' which was quickly followed by DIY another unreleased ep. Both CDs were only sold mail order and live at gigs.. Big Stick and DIY will soon be available for down load so watch this space! MP3s
While living in New York Suzanne enjoyed a residency at Tilt with guest performers Jeff Buckley, Mark Ribot, Berni Worrell, Leo Nocentelli. When she returned to London Suzanne was keen to start a similar club. She was one of the first artists and promoters to have a residency at the now legendary 12 Bar Club, in London. Cushy Productions was born and the club ran monthly for eight years showcasing her music and some of the best bands in the city, on the night. Check out the gigs pages for more detail about the who where's whys and what's of Cushy! Hefner, White Hotel, Long Good Luck, The Hangovers, Ant, Woodbine, Kurt Wagner, Rhatigan and more.

Other RHATIGAN sites Suzanne Rhatigan on Bandcamp