@ 12 BAR CLUB
Denmark Place, London WC2
RHATIGAN
MICHAEL J SHEEHY
ANT
LIANNE HALL


Who'd a thunk it another Cushy year and the gang's all here, well just. I'd like to thank everyone who helped throughout and beyond particularly Andy Lowe promoter at the 12 Bar a man of immaculate musical taste and temperament and Carlo and Andy the club owners who continue to provide a home for great live music. Thanks to regular Rhatigan band members John, Paul and Jacqui and the friends (too numerous to mention) who have stepped into the breach and of course the 1000 or so sound engineers and door persons I have chewed up and spat out in my time.


Above all thank you to the loyal Cushyites who barring family bereavement or the chance of a shag turn out every month to witness the full horror of a band prepared to play their music to the death. All of the Cushy adventures have been chronicled by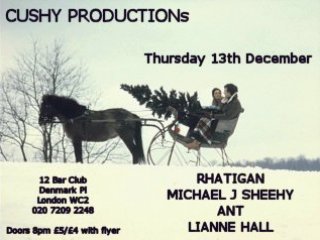 my dear friend Scott who never fails to capture the madness in his newsletters which you can see by visiting RHATNET

Next year Cushy will be changing. Rhatigan as a band or solo will not be appearing every month. I will still gather the best artists and bands to play in an atmosphere that is easy going and creative. The headline band will take over the two set format and hopefully 'the anything might happen' feel of the night will continue. Meanwhile we will be putting together the album we have long promised and will turn up live from time to time. So I guess this is the last RHATIGAN live gig for a little while...

Aside from getting to play my songs and hang out with my friends, the great thing about the Cushy night for me has been bringing some of the best talent in London to the venue. There have been many highlights (which you can read about in the gigs pages on the Cushy site ) and MICHAEL J SHEEHY fits that category. His second solo album 'Ill Gotten Gains' out now on Beggars Banquet is the cauldron of passion, violence and aspiration he has been mixing since the early Dream City Film Club days, but with his talent to the fore it is now a delicious and irresistible potion you can't help sipping.
Anthony Harding aka ANT the quietest drummer in the west is another singer songwriter who beguiles and tempts me but in a very different way. His is a sweeter sadness but his apparent innocence belies a dark centre. His second album 'A Long Way To Blow A Kiss' is out in January on Fortune and Glory and with Hefner laying down tools for a while, he will hopefully get a chance to spread his own words about.

A late addition and a welcome return to LIANNE HALL whose recent set for us was spell binding. There is a richness and resonance in her voice which combined with the melancholy and humour in her songs really does it for me, (Chan Marshall's English country cousin). Her second Peel session is being aired on Thursday 6th of December so tune in to that as taster for the 13th...
Things have changed with the online tv set up and gigs are no longer live online. Thanks to Paul at the club the shows can still be videoed for £25, but if you are interested in buying a copy let him know before the show, some of the older gigs should still be on the online tv archive ...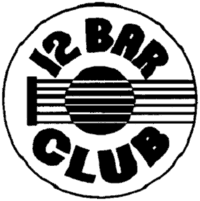 £5 or £4 with flyers
Doors 8pm